What People Are Saying About DogWatch
Brian B.
Jason was very knowledgeable and friendly! The training of my dog Mac was very easy to do. We love the fence as we can let our dog out with no worries.
We want to hear from you! Write us a review on Google+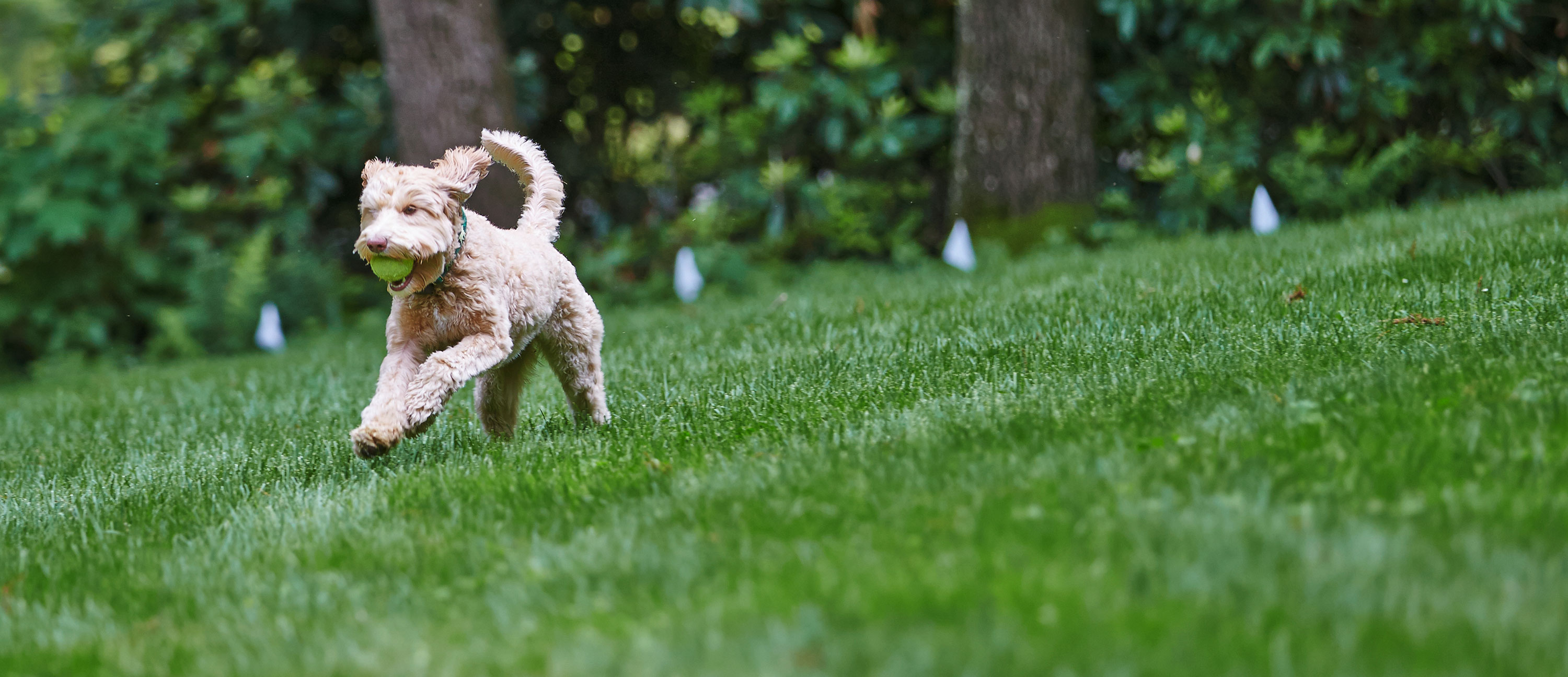 Christine N. – Your Dog and You
www.yourdogandyou.com
Electronic Fences, there IS a difference! Many years ago I had that standard brand name of Electronic Fences and my poor girl Harley was getting a correction for no reason. This was damaging her psychologically as negative associations were being created for being in no certain place and at no certain time.
I very quickly learned that this was because the fence I was using has only an AM radio frequency and that the collar on my dog was picking up stray AM radio waves and causing inconsistent and unnecessary corrections. I was thankful to find out that the DogWatch Hidden Fence system works on ONLY an FM radio wave. They actually patented the use of the FM radio wave for the Electronic Fence. I see now that the other fences on the market are using DM (digital modulation) (yep I've done my homework) and come to find out that it's still an AM radio wave. No way was I going to allow my dogs to get a correction for simply minding their own business, especially since I'm in the dog behavior business and fully understand the ramifications of such inconsistent corrections. I switched over to The DogWatch Hidden Fence many years ago and never looked back.
For me this is the first reason that I switched, reason enough I am sure. Then I come to find out that the battery in The DogWatch Hidden Fence collar lasts a full 2 years (for my size dog) vs. the other collar that only lasted 3 months. I felt much more comfortable knowing that I did not need to change the battery nearly as often and I feared that I might forget. My dog's DogWatch collar also has an indicator on it that flashes when I do need to change my battery.
One of my favorite things about this system is the indoor units. So often I go into a client's house and see baby gates everywhere and get complaints that their dogs counter surf, snack out of the kitty litter box and track all kinds of dirt on to the white rug in the dining room. The indoor systems are truly amazing. So easy, no super time consuming training, the system just does the job. It's always on time, consistent and no human interaction is needed. Not to mention that you can have your pool or garden or pond looped so that the dog can have free access to the yard without getting into trouble or worse there being an accident in the pool.
My latest addition to the pack had an intense prey drive and would hop my physical fence to follow the deer out of the yard. I feel confident each day leaving my dog door open and allowing him access to the yard wearing his DogWatch collar. The boundary line doesn't allow him access to jump over the fence. Coupling the DW fence with your physical fence also prevents a dog from digging under your existing fence. This fence is truly about safety.
There are so many things about this brand of fence that are superior to the others. As far as my DogWatch guy, Jason Gares, he knows a ton about dog behavior and easily handles many of the difficult dogs that I refer to him. He trains the dogs to the fence patiently and humanely to help the dog to respect the boundary permanently. My installation was quick, clean, looks nice, and works great even if I lose power. Whenever I need anything at all I get quick service. Love this fence and I only recommend The DogWatch Hidden fence to all of my clients and friends.
Edith A.
I absolutely love having the hidden fence. I have a Rhodesian Ridgeback and not once has he tried to cross over the set boundary, even when chasing my children. It is a pleasure to be able to let him run free. I am highly impressed with the effectiveness of the DogWatch Hidden Fence.
Brian B.
Jason was very knowledgeable and friendly! The training of my dog Mac was very easy to do. We love the fence as we can let our dog out with no worries.
Todd K.
My experience with Jason and the DogWatch product has exceeded all expectations, from our very first meeting through the ongoing service he has provided over the years.

At the point where I was selecting a company to provide me with a hidden fence product, Jason instantly set himself apart from the competition in several ways:
His genuine love for dogs was obvious as he spent considerable time getting to know my dog, before we ever talked business
Jason realized my needs quickly and, unlike his competitors, he recommended a very cost-effective solution without ever attempting to sell me on unnecessary services
He was the only provider to recommend a two zone approach, one for the front and one for the back of the property. This suggestion was invaluable as my dogs are always safe whether we let them out the front or the back door but they are never out of site. I typically let my dogs out the back door and I never have to worry about what they might be getting into or who they might be interacting with out front. When I go out front, I can easily let the dogs out with me via the front door.

Jason's method of training the dogs on the fence was highly effective with a special emphasis on being dog-friendly. Not only were each of my 2 dogs trained on the fence in less than 2 weeks, but Jason's compassionate approach ensured the vast majority of their training took place in a pain-free environment. During his limited number of training visits, Jason spent the necessary time to make sure I was comfortable with continuing the training in his absence.

I have had the DogWatch product for over 4 years and it has been absolutely trouble-free. The only time I ever needed service was when one of my landscapers accidentally severed the hidden fence. I was instantly alerted to the break in the fence by the audible alarm. After calling Jason to let him know of the problem, he came out the very next day and the problem was fixed immediately.

I couldn't be happier with this product or the level of service I have received from Jason over the years. It is easy for me to recommend DogWatch of South Jersey for anyone interested in a hidden fence product.
Robin and Steve C. – Cherry Hill, NJ
We had a DogWatch Hidden Fence System installed in my yard about a year ago for my Mini Goldendoodle. We were initially looking into another company but had heard not so great things about them so when we saw my neighbor had a sign for DogWatch we called them. The owner, Jason, came over for a consultation and we were immediately impressed with both him and the system.
We signed up that week and Jason installed the fence a few days later. One of the things that is so great about the system and the company is that Jason does all the work and servicing himself. Once the system was installed, he spent time with us and our dog and within an hour she was doing great with the fence. He explained to us how to continue the training and it couldn't have been easier. He has always been available for service calls and questions and is very reliable and honest. I would recommend the DogWatch system for anyone with a dog as it has made our lives so much easier and our dog has so much room to run on our property without the constraints of a leash.
Scott and Stefanie H.
Thank you!
Jason, we just wanted to drop you a note letting you know how much we love our DogWatch Hidden Fence system. As I am sure you remember my wife was not keen on the idea of the electric fence. After you let us try it out for ourselves we were content in knowing that Killian would not be harmed from the collar.

Our Vizsla is a safer pup now that we have your system installed. We were amazed to see how fast your training with Killian worked. Killian took to you right away and you were great with him. He learned the boundaries in two days and refuses to try and leave the yard. Even if people, dogs, street traffic are going by he stays put! Anyone who wants to keep their dog safe and sound at home should definitely call you.

Your installation was done very professionally and we could barely tell you were in the yard. Once again we are very pleased that we picked the DogWatch Hidden Fence system and that we had the pleasure to work with you in teaching Killian where he can and cannot go.
Jan C.
I would never use a shock collar on my dog! How many times I heard myself say that. The very thought of using such a thing on my beloved pets was unthinkable. That is until Loki came into our lives. Loki, our Siberian Husky who was rescued from life in a small cage, came to us at 6 months old.
In our large, fenced backyard he discovered what huskies were born to do – RUN! And when he saw the deer in the peach orchard behind our house, he discovered another talent – escape artist! Anyone who has ever had a dog run off from their home and get lost knows that horrible sinking feeling. You are so frantic to find them it's hard to even breathe. Three times Loki answered the call of the wild to chase the deer and rabbits behind our house. The third time, after hours of the searching, hoarse from calling him name, I found him on the other side of the state highway! How he safely crossed the traffic was a mystery to me, but I knew I could never take that chance again. This was truly a matter of life and death for our Loki Blue Eyes.
As I clung to his neck and cried I knew I had to do something to keep him safe. When we got home I called our vet who recommended Jason and South Jersey DogWatch. The next day Jason came out, installed the electric fence and began teaching us how to use it. Each time Jason came to work with us on the proper use of the fence, his love of dogs was easy to see. Loki took to him right away. We could tell this was more than just business to him, that he did this because he loves dogs and wants them to be safe, which is just what we needed. He came back as often as we needed him and helped us train Loki to understand and respect the new barrier around our property.
Now with our electric fence Loki stays clear of the fence perimeter. No more digging or squeezing under it. And I can let him outside to play with his doggy brothers with full confidence that when I call them to come in, he will be there with his tail wagging and his blue eyes smiling.
I simply cannot thank you enough, Jason, for the peace of mind you have given us, not only for the fence itself, but also the knowledge that you stand behind your work. Every time we have needed some help with the fence you have come right out and fixed things for us. It is a pleasure working with you. Again, thank you so very much.
Ryan H.
We needed a good system that would help us contain our new Golden Doodle. We had a 3 foot fence already but that proved to be an easy task for our dog to jump. When we called we were greeted by Jason who knew what he was doing and was helpful in aiding us in our decision of the best alternative. We chose DogWatch over the other systems and we have been extremely pleased. Jason was able to train our dog within 30 minutes to stay away from the boundaries set and we never had another "jump" since. That was over a year ago.
Brian
DogWatch Hidden Fence is the only reason why I still have dogs today. My dogs Jeremy and Caesar (Brothers) Rottie/Boxer mix were very destructive puppies. I never had dogs like these two dogs before. I would consider them Be-Be's dogs. When they were puppies they ate all of my landscaping in my backyard. That includes 6 Evergreen Trees, Black-eyed Suzies, two maple trees, etc. They also tore off pieces of siding from my house. I have always had dogs but that was about to end. One day I was riding on Fries Mill Road on my way to Home Depot and I saw a van that was advertising DogWatch Hidden Fence. When I returned home I Googled DogWatch Hidden Fence. I compared it with the Invisible Fence. I liked the customer service better with DogWatch Hidden Fence. I called for an appointment and Jason was able to come the next day which was a Sunday. I told him what my concerns were, showed him my two dogs and then I should him the damage that they caused. I told Jason if (DogWatch) Hidden Fence doesn't work my dogs will have to go to the dog pound. Jason and I worked up a price for the zones that I needed Hidden Fence to be installed and he completed the task two days later. He trained me on how to train my dogs regarding their boundaries, how long I should train them and he scheduled an appointment to make adjustments to the system.

Well thanks to DogWatch Hidden Fence I still have my two dogs, new plants, trees, flowers and siding on my house for the past year and a half. It was well worth the investment, my wife is happy and so am I. I can also reach Jason very easily when I need an adjustment or accessories for my DogWatch system.
Tell Us Your DogWatch Story!
We'd love to hear from you, too! Please consider filling out our customer feedback survey to tell us about your experience with DogWatch.